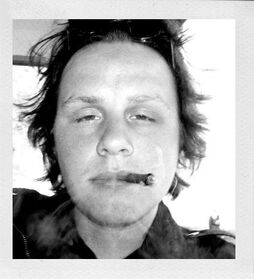 William Pauley III is an American author of bizarro fiction. He was born in San Antonio, TX on July 31st, 1984. He currently resides in Lexington, KY, where he lives with his wife and two children. He is the founder/co-editor of the bizarro/horror/sci-fi blogzine, The New Flesh, and the author of several books, including: The Brothers Crunk - An 8-Bit Fack-it-all Adventure in 2D, Doom Magnetic!, and his upcoming book Demolition Ya-Ya. He has heat-ray eyes that are powerful enough to melt cheese. [citation needed]
Anthologies
Edit
The following anthologies contain stories written by William Pauley III.
Story Credits
Edit
Poetry Credits
Edit
External Links
Edit
Ad blocker interference detected!
Wikia is a free-to-use site that makes money from advertising. We have a modified experience for viewers using ad blockers

Wikia is not accessible if you've made further modifications. Remove the custom ad blocker rule(s) and the page will load as expected.