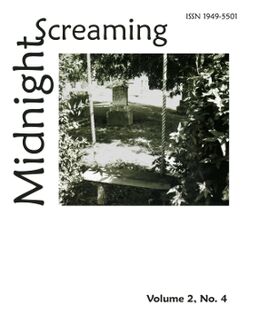 The Volume 2, Number 4 issue of Midnight Screaming Magazine was published in October of 2010 and featured cover art by Beth Hooker.
Contents
Edit
The Swing (cover art) by Beth Hooker
Insomnia by Holly Day
Two-story House by Kelsey D. Garmendia
Person to Person by H. David Blalock
A Daffodil or Tulip Shan't Compare by Justin Tate
Give Yourself to Me Forever by Adam Callaway
A Homeless Man Asked for a Dollar When I was Drunk by Jim Davis, Jr.
Ad blocker interference detected!
Wikia is a free-to-use site that makes money from advertising. We have a modified experience for viewers using ad blockers

Wikia is not accessible if you've made further modifications. Remove the custom ad blocker rule(s) and the page will load as expected.