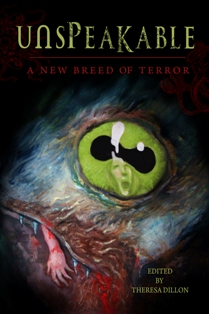 Unspeakable: A New Breed of Horror was published by Blood Bound Books and edited by Theresa Dillon.
Border Jumper by Adam Blomquist
Field Test by R. Scott McCoy
Deadheads by Don Norum
Stranger in the Woods by Natalie L. Sin
The Monarch of the Seas by K.G. McAbee
Mato Tipila by Jessy Marie Roberts
Gates of Perception by Eric J. Millar
Acolyte by Storm Grant
The Deal by T. Joseph Dunham
The Ash by Michael J. Hultquist
Cancer on Cats Paws by Kristin Dearborn
The Robe by Sharon M. White
The Midnight Mass by John Morgan
The City Consumed by Divine Fire & Buried Beneath the Sand by Monique Bos
The Booglin by David Bernstein
Orsini's Vineyard by David Hearn
The Worm of the Waste by Justin A. Williams
The Memory Thief by Liz Strange
If Love is Not Madness... by Jason Andrew
The Mare by Y.B. Cats
Forgotten Lake by Deena M. Lyvang
Where They Come Out by Holly Day
Strunke City Derail by Murphy Edwards
Wind, Winter, Wendigo by Adrian Ludens
Ad blocker interference detected!
Wikia is a free-to-use site that makes money from advertising. We have a modified experience for viewers using ad blockers

Wikia is not accessible if you've made further modifications. Remove the custom ad blocker rule(s) and the page will load as expected.