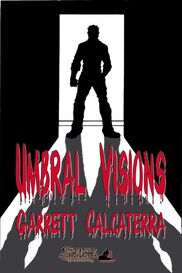 Umbral Visions is a horror book written by Garrett Calcaterra , published by Gyspy Shadow Publishing in 2010. The book finished 2nd place in the 2010 Preditors & Editors Readers Poll for best horror novel. It is comprised of two novellas, "The Key Ring" and "The Shadow."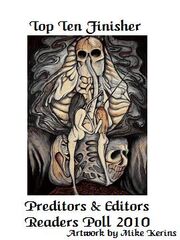 "The Shadow" originally appeared in The Dragonmount Anthology I (Argonaut Entertainment, 2007), with all proceeds going towards Amyloidosis research. The version appearing in Umbral Visions has numerous editorial changes from the original, though the story itself remains largely unchanged.
"The Key Ring" originally appeared in Arkham Tales (Issue #2, February 2009). The story won the Best Horror Short Story Award in the 2009 Preditors & Editors Readers Poll.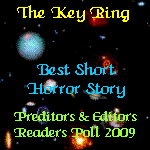 Synopsis of "The Key Ring"
Twenty years after he left, Dedrick Hearne returns to the once opulent Victorian style mansion where he grew up—and where his childhood friend, Penny, disappeared without a trace. In each room of the labyrinthine mansion Dedrick finds answers to the puzzle, but at the cost of reliving the horrific childhood he has put behind him. The only way to save himself and find out what happened to Penny is to unlock the doors of his family's past...
Synopsis of "The Shadow"
After a freak accident leaves star athlete Damon Cody paralyzed from the neck down, Damon turns to writing tales of a vigilante super hero with the voice-recognition software his two life-long friends, Brad and Hayley, have given him. When the vigilante acts from Damon's stories start happening in real life, though, Brad and Hayley must uncover the identity of the vigilante before he turns on them all...
Editions
The book is available as a paperback edition and in multiple e-book formats, either directly from the publisher or through major on-line retailers such as Amazon.com. Book stores can order copies from their distributor. ISBN: 978-0-9844521-87
Ad blocker interference detected!
Wikia is a free-to-use site that makes money from advertising. We have a modified experience for viewers using ad blockers

Wikia is not accessible if you've made further modifications. Remove the custom ad blocker rule(s) and the page will load as expected.