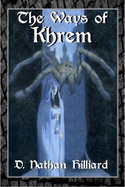 The Ways of Khrem is a collection of stories written by D. Nathan Hilliard and produced by Pill Hill Press.
Description
Edit
The Ways of Khrem, D. Nathan Hilliard's debut single-author collection, features three interconnected novellas: The Reach of Talanturos, The Cistern, & The Ghost of Candlewalk Lane. Cargill the Bookseller lives a quiet life, in a modest house, overlooking the vast city of Khrem...a magical metropolis of cavernous streets, lofty spires, and dark secrets.
His life is turned upside down when Captain Wilhelm Drayton of the City Watch arrives at Cargill's doorstep and confronts him with his criminal past. Now Cargill must assist the Captain in solving mysteries in a city where the villain may not even be human, bringing all of his skills to bear as he finds himself at odds with gods, monsters, and psychopaths alike.
Ad blocker interference detected!
Wikia is a free-to-use site that makes money from advertising. We have a modified experience for viewers using ad blockers

Wikia is not accessible if you've made further modifications. Remove the custom ad blocker rule(s) and the page will load as expected.