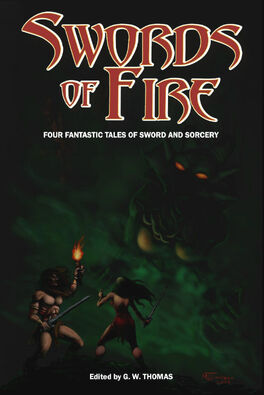 &nbsp
Swords of Fire is a novella edited by G.W. Thomas and produced by Rage Machine Books. It consists of four novellas written by David A. Hardy, C.J. Burch, G.W. Thomas, and Jack Mackenzie.
The cover and other illustrations were created by M.D. Jackson.
Temple of the Raksashas by David A. Hardy
Two Fools for the Price of One by C.J. Burch
The Pieces of the Game by Jack Mackenzie
Ad blocker interference detected!
Wikia is a free-to-use site that makes money from advertising. We have a modified experience for viewers using ad blockers

Wikia is not accessible if you've made further modifications. Remove the custom ad blocker rule(s) and the page will load as expected.