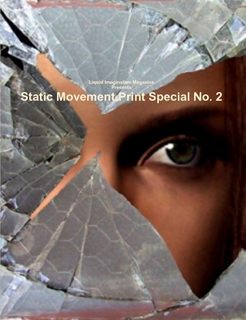 The Static Movement Print Special No. 2 anthology was published by Liquid Imagination Publishing.
Contents
Edit
Stories
Waiting by Ken Head
Expiry by Mo Irvine
Down the Corridors of Life Purloined by Anthony G. Bernstein
See Mouse Fly by John Klawitter
Me & MB by John Klawitter
The Collector by Sarah Frost Mellor
Whispering through the Veil by J.T. Evans
Hands of Mercy by John "JAM" Arthur Miller
The Herbs of Andali by James P. Wagner
Those Left Behind by Kevin Wallis
Dinnertime by Rick McQuiston
The Cull by John Irvine
Earth Bound by Elliot Richard Dorfman
Walking the Winds at Dawn (Falling through the Clouds at Night) by Justin Curtis
Work at Home Job by James P. Wagner
Broken Hearted Savior by A.J. Brown
Emotion Eaters by Scott Wilson
Taedium Mortis by Louise Norlie
Scary Story by Leonardo "Leo" John Miller
The Nightmare by Vincent "Vinnie" Logan Miller
The Disappearance of Alice P. Liddell by Michael Hanson
Stealing Skyward by Joshua Michael Johnson
The Wikid Pedia: A Reminder, A Warning, A Short History by James A. Stewart
Falling Away by T.L. Bodine
The Call by John Stanton
At the Seaside, by the Sea by Florence Stanton
FETCH! by Ken Goldman
Swan Maiden by Tala Bar
She by Shelly Muir
Ill Met in Turquoise Sunset by Glen Held
The Chest (a tribute to Edgar Allan Poe's "The Gold Bug") by S. Copperstone
Static Movement by John "JAM" Arthur Miller
Silent Delivery by Jamie K. Schmidt
Behind Closed Doors by Charlotte Emma Gledson
The Wranglers by Eric S. Brown
The Dentist Visit by P.S. Gifford
Poetry
A Surrealist Love Story of Tainted Love and Wedding Proposals by Lee Kuruganti
Nightmare by William Wolford
Walls Have Ears at Prinsengracht 263 by Ken Head
Eterna Oceana and True Philosophy by Jonathan Crider
Stardust in the Gold and Nephillium by John C. Mannone
I Dreamed and Haunted Me by Michael H. Hanson
Jungle Music by John C. Mannone
Mare of the Night by Brandon L. Rucker
Rose, Come Home by Deborah Walker
A Grim Affair by P.S. Gifford
Perseus by Deborah Walker
Succubus by Brandon L. Rucker
Ad blocker interference detected!
Wikia is a free-to-use site that makes money from advertising. We have a modified experience for viewers using ad blockers

Wikia is not accessible if you've made further modifications. Remove the custom ad blocker rule(s) and the page will load as expected.