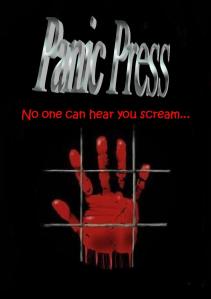 Panic Press is a small press publisher is association with House of Horror ezine. They print novellas, novels, chapbooks and short story and poetry collections.
Collections
Edit
Chapbooks
Edit
Testimonials
Edit
From Alan Spencer, author of Ashes in Her Eyes: "Panic Press is fueled for terror, putting out the latest horror fiction with efficiency and zest. I couldn't have asked for a better team to release my third novel, "Ashes in Her Eyes." Publishing here, I felt my work wasn't just in the hands of hard working individuals, but also fans of the genre. They've put together a hell of a marketing package, and the artwork will have any red blooded horror reader foaming at the mouth. Any writer should feel at home publishing with Panic Press."
From Thom Olausson, author of Poetry from Hell's Asylum: "I had this book of horror poetry that had been picked up by another publisher, but then Life stepped in and the publisher folded. I turned to people I have the highest respect for, amongst them was Sam Cox, for advice. She asked me to submit my manuscript to Panic Press Books, her own publishing company. I did, and I am glad I did! They picked up the collection of horror poetry and ran with it. I am truly happy, and the artwork Darren created is out of this world. Just look at the cover for POETRY FROM HELL'S ASYLUM, it is exactly what I had imagined! The world of horror really needs a publisher like Panic Press Books, they make that world of darkness so much fuller! And the end result for my book? A professional masterpiece!"
External Links
Edit
Ad blocker interference detected!
Wikia is a free-to-use site that makes money from advertising. We have a modified experience for viewers using ad blockers

Wikia is not accessible if you've made further modifications. Remove the custom ad blocker rule(s) and the page will load as expected.