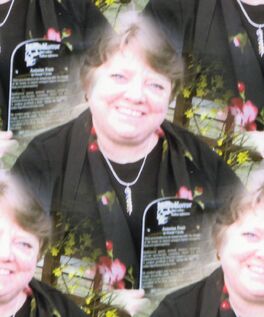 Oonah V Joslin is a multiple award-winning author, editor, and poet. She is the Managing Editor of Every Day Poets. She is a prolific writer who has had her work published by several publications, both print and online.
Every Day Poets
Edit
Anthologies
Edit
A Man of Few Words
Best of Every Day Fiction 2008
Story Credits
Edit
A Lack of Breeding
Above Nature
Anybody
Autumn Fruit
Best Laid Plans
Bitter Buds
Both Feet in the Past
Brink
Chemistry Lesson
Cider Sunrise
Closet Key
Confession
Conscious Decision
Dance
Dead Magazine
Discipline of Shadows
Division
Dock
Duplicitous Creatures
End Game
Explanation
Faerie Gold
Firm Friendship
Forty Years On
Genestare
Ghost Writer
Green Reaper
Halloween
Heroes All
Holding On
Inner Slip
July's the Time for Jelly
Late
Links
Lessons in Wood
Lonely Road
Magnanimous Gesture
Marrying Maud
Meat the Family
Misconception
Missy's Summer
Musings
Name of the Beast
Name of the Ride
Oblong Box
Oh, For a Friendly Face
On Angel's Wings
Only a Small Eden
Orion and the Dogs
Out of Time
Patterns for Life
Penumbra
Post Post Mortem
Recruitment
Resolution
Rex
Ritual Dance
Rosebay Willowherb
Ruby with Sapphire Eyes
Sasquatch
Should Have Worn Wellies
Sleep Tight
Slivers of Memory
Smolensk - The Second Time
Sole Survivor
Sown On the Wind
Synergy
Tall One
The Bonaparte Tree
The Brave
The Carmody Complex
The Catalyst
The Centoccules
The Doll's House
The Escape
The Final Chapter
The Final Cut
The Frost Lady
The Old, Old Story
The Real Thing
The Santa Suit
The Shark's Tooth
The Vast Horror of It
The Visitors
The Warmth at the Heart of Winter
The Way Home
Titration of the Spirit
To Love is to Burn
Victim
What You Make Of It
Whisper in the Dark
Worker
www
Poetry Credits
Edit
A Tribute to Her Beauty
Beyond Belief
Catching the Wind
Death of a Modern Driver
Exploring Parts of the Impossible
Fox in the Wood
Foundations Haiku
From Crazy Diamond to Reflected Light
Grandma's Glove
Haiku Housewife
Hats Off
Illusions
Image In
Intelligence
Leaving Home
Matricide
Natural Enemy
Room for God
Room for Living
Spike
Spring Spell
Take Time
The Book Burning
The Coldenst Heart
The Crab
The Photograph
Touching a Legend
Tryst
Yellow Brick Road to Ruin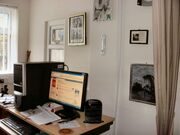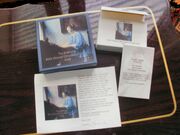 Binnacle 2009 and Micro Horror 2007 2008 2009
It certainly helps the editing process to have these prizes by my desk :)
External Links
Edit
Blog Page http://oovj.wordpress.com/
Ad blocker interference detected!
Wikia is a free-to-use site that makes money from advertising. We have a modified experience for viewers using ad blockers

Wikia is not accessible if you've made further modifications. Remove the custom ad blocker rule(s) and the page will load as expected.