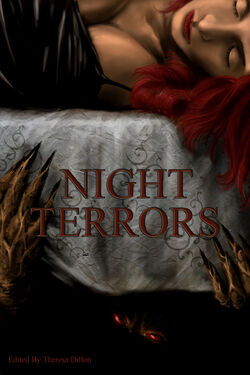 Night Terrors: An Anthology of Horror was published by Blood Bound Books in May, 2010. The anthology was edited by Theresa Dillon.
Contents
Edit
Tomorrow's Headline by Adrian Ludens
Holy is as Holy Does by Pete Mesling
Gravity Hill by Jenna M. Pittman
Lunatic Mile by Barry Napier
Scent by Joshua Scribner
The Intersection by Brenden P. Myers
Ten Seconds by Michael Hughes
Are You The Fairest? by Piper Morgan
The Good Father by E.R. Delafield
The Language of Colors by Deena M. Lyvang
The Stripper by Stephanie Kincaid
While Gabriel Slept by Matthew Moore
Trepan by Bryan Oftedahl
The Elephant in the Marble by Desmond Warzel
From Under the Bed by David Bernstein
Little Piggies by G. Winston Hyatt
Summer Heat by Lawrence Salani
Twinkle, Twinkle by Jessy Marie Roberts
Only Three Dead Presidents by Robert Essig
Amy Lou's Ice-cream Parlor by Harper Hull
The Rest for the Wicked by Stephen Hill
Rache by Kendra Lisum
Tattered Notes Found in a Cheap Motel Room by Lee Clark Zumpe
Lookers by Brick Marlin
Good Samaritan by Murphy Edwards
The Hole in the Fence by Craig Saunders
The Bitter Taste of Rapture by Monique Bos
Living Memory by Keith J. Scales
The Face in the Sand by Lawrence Conquest
Somewhere Anywhere by Kevin Brown
Praise for Night Terrors
Edit
From Trish Martin's Horrornews.net review: "Creepy, macabre subject matter fills the pages of a Blood Bound Books first, Night Terrors: An Anthology of Horror edited by Theresa Dillon. Night Terrors is an anthology of 31 horror stories ranging from stories of serial killers, to monsters, to evil itself. There are stories here to satisfy anyone's palate and quench anyone's thirst for blood and gore." She goes on to say, "Each story has its good points and there is a little something for everyone within the pages of Night Terrors. So if you're looking for something to read that you can pick up and put down when needed without breaking up the monotony of a long novel then pick this one up."
From Fangoria: "Harper Hull's shocker "Amy Lou's Ice Cream Parlor" is an absolute sucker punch to the gut. Hull drags us down into the spectral depths of his protagonist's heartbreaking depravity—and never brings us back. Discovering this story at the tail end of the collection is just about enough to justify the entire purchase price. Hull is not alone. Desmond Warzel's "The Elephant in the Marble" allows the reader to rubberneck through his narrator's own compellingly hazy drug-induced demise. Craig Saunders' "The Hole in the Fence" strikes its own confident balance between character and concept, while the sheer dissoluteness of Barry Napier's "Lunatic Mile" deserves mention for tapping the reader's gag reflex rather than just settling for a simple gag."
Ad blocker interference detected!
Wikia is a free-to-use site that makes money from advertising. We have a modified experience for viewers using ad blockers

Wikia is not accessible if you've made further modifications. Remove the custom ad blocker rule(s) and the page will load as expected.