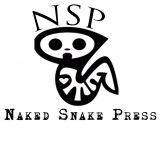 Naked Snake Press is the brainchild of Donna Burgess. Dedicated to bringing readers of horror and fantasy fiction, NSP Books is constantly adding to its library.
Collections
Edit
Novellas
Edit
External Links
Edit
Website: http://nakedsnakepress.blogspot.com/
Ad blocker interference detected!
Wikia is a free-to-use site that makes money from advertising. We have a modified experience for viewers using ad blockers

Wikia is not accessible if you've made further modifications. Remove the custom ad blocker rule(s) and the page will load as expected.