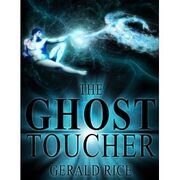 Gerald Rice is the author of several short stories and the novel,
The Ghost Toucher
, published by Severed Press. He lives in Metro Detroit with his wife and daughter.
Gerald first began writing in high school, particularly in a creative writing class at Cranbrook's Horizon's Upward Bound program. He won the Verocchio award while there and would continue writing throughout high school stories that he would later describe as 'terrible'.
After graduating high school in 1995, he went to GMI Engineering and Management Institute in Flint, Michigan. He took two semesters there before dropping out. He later went on to obtain an Associate of Arts from Mott Community College, also in Flint, where he developed a penchant for poetry.
During that time he wrote the short story, Night of the Loving Dead, his first effort in more than five years. After several months it was rejected by the horror magazine, Cemetery Dance. He would go on to have several more rejections over the next few years as he honed his craft.
His first publishing success for fiction came from Alien Skin Magazine, for his story First Customer. Rice credits the on-line magazine with initially helping him to craft his work into something publishable. He would go on to published several more short stories with them, including the defunct sister e-zine, Nocturnal Ooze.
But Gerald had always longed to see his writing in print. He attempted to write for several print magazines, including Asimov's Science Fiction, Talebones, and Clarkesworld Magazine. He eventually found success in Sam's Dot, The American Drivel Review and Harvest Hill.
In 2009, Rice wrote his first novel, The Ghost Toucher, about a reality television star who goes missing in Detroit and the two men who bumble around the city trying to find him. He is currently at work on a sequel.
Ad blocker interference detected!
Wikia is a free-to-use site that makes money from advertising. We have a modified experience for viewers using ad blockers

Wikia is not accessible if you've made further modifications. Remove the custom ad blocker rule(s) and the page will load as expected.