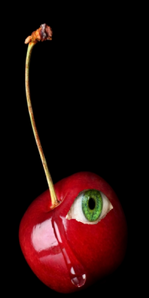 Edmund Colell is an Arizonan author with published work beginning from early 2010. Due to his troubled medical history, frequent rumination, and easily-stimulated curiosity, he was led to writing fiction with emphasis on tropes from sci-fi, horror, and bizarro fiction. Frequent elements include bodily terrors, pharmaceutical and chemical fascinations, consumption, and stream-of-consciousness distortions to natural functions of animate and inanimate objects.
Exposed Body of Work
Edit
"Bath" [1]
"Eating" [2]
"Crumble" [3]
"The Christmas Turn On," which appeared in Carlton Mellick III Presents Christmas on Crack
The Cherry?
Edit
Pictured at the right is a frequently-used avatar of Colell on forums and social networking sites. It is a sweating, cycloptic cherry (easily confused to be crying instead of sweating). While its connection to his fiction is minimal at best (through any interpretation of sweating, cycloptic vision, or symbolic contexts of cherries), he has stuck with it for its simplicity and its easy recognition.
References
Edit
1. Courtesy of Verbicide Magazine
2. Courtesy of LegumeMan Books
3. Courtesy of New Flesh Magazine
Ad blocker interference detected!
Wikia is a free-to-use site that makes money from advertising. We have a modified experience for viewers using ad blockers

Wikia is not accessible if you've made further modifications. Remove the custom ad blocker rule(s) and the page will load as expected.