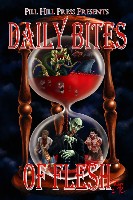 Daily Bites of Flesh 2011: 365 Days of Flash Fiction
is an anthology to be released by
Pill Hill Press
. It will feature a story (500 words or less) for everyday of the year. Some contributing writers are: David Barbar,
Lee Hughes
, M.A.R., Daniel Fabiani, Rebecca L. Brown, Paul Phillips, Laurita Miller,
Steven Chapman
and
Chad Case
, just to name a few. The book is available at:
http://search.barnesandnoble.com/Daily-Bites-of-Flesh-2011/Jessy-Marie-Roberts/e/9781617060182/?itm=8&USRI=daily+bites
Ad blocker interference detected!
Wikia is a free-to-use site that makes money from advertising. We have a modified experience for viewers using ad blockers

Wikia is not accessible if you've made further modifications. Remove the custom ad blocker rule(s) and the page will load as expected.