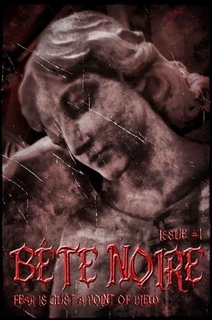 The following is the list of works that appeared in Bete Noire: Issue One.
What They Consumed by Helmut Finch
Of Moths, Junkies and Other Ephemera by Krikor N. Der Hohannesian
Ghost Hand by J.R. Washburn
Janus by Justin Gustainis
Hallow's Eve by Florence Grey
Beautiful Gothic by Junior McLean
The Trials and Tribulations of Marvin Lefler by Tom Sawyer
The Lateral Eclipse of Bound Sunsets by Bruce Boston
Feeding Time by Denny E. Marshall
Oubliette by Ash Krafton
Waiting to Find Out by J.J. Steinfeld
Ad blocker interference detected!
Wikia is a free-to-use site that makes money from advertising. We have a modified experience for viewers using ad blockers

Wikia is not accessible if you've made further modifications. Remove the custom ad blocker rule(s) and the page will load as expected.