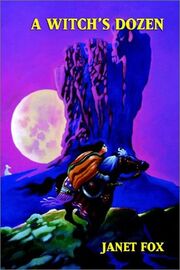 A Witch's Dozen is a collection of short stories and novelettes written by Janet Fox. The collection was originally released as a hardback by Wildside Press in 2003. In 2005 Wildside Press reprinted it as a trade paperback.
Contents
Edit
A Witch in Time
Alliances
Demon and Demoiselle
Garage Sales
In the Kingdom of the Thorn
Morrien's Bitch
Screaming to Get Out
Small Magic
Surrogate
Taking Care of Bertie
The Skins You Love to Touch
Valentine
Witches
Ad blocker interference detected!
Wikia is a free-to-use site that makes money from advertising. We have a modified experience for viewers using ad blockers

Wikia is not accessible if you've made further modifications. Remove the custom ad blocker rule(s) and the page will load as expected.